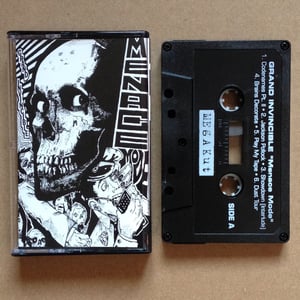 $

7.00
12 song pro dubbed cassette with 16 page zine and download code.
MEGAKUT RECORDS WINTER 2015
GRAND INVINCIBLE: MENACE MODE
MENACE MODE is the third album from underground hip hop duo GRAND INVINCIBLE, DJ Eons One and MC Luke Sick. Released on cassette three years after their 2012 CD EP, Winter365. The album contains a notably mustier and grimmer sound than their previous efforts. Guest appearances, in the form of furious scratch attacks, came from Sneek, Netherlands' DJ Sniper (on the song SOFT DUCKS) and Oroville, California's Eddie Def (on the song PLAN A). The first single and video is YEGG. Other singles with videos to follow are: CODENAMES PT. II, JACKSON POLLOCK, SHOWDOWN (Interlude), BRAINS DECORATE, and PLAY MY TAPE.
Luke Sick, who shared the mic with numerous features on their previous EP, goes all bolo on this one similar in fashion to their first 2 LPs (ASK THE DUST and COLD HAND IN THE DICE GAME). Producer Eons composed all of the vinyl excavations and dusted drum patterning and handled the rest of the album's cut-work himself. Due to the fusty nature of their record company Megakut's "micro-release" credenda, some of GRAND INVINCIBLE's previous work is now hard to find.
Listen to YEGG:
https://soundcloud.com/dj-eons-one/grand-invincible-yegg